After testing the complete bike through out this season, we are now taking orders. Delivery is dependent on two or three suppliers subject to their workload and ability to meet our deadlines. Some production tooling is now being finalised and delivery of early orders will be dependent on these being finished.
Our intension is to meet customer orders within twelve to sixteen weeks of receiving the deposit.
If there is a delay owing to unforeseen circumstances the customer will be notified at the earliest time and project end date visited. This is a very labour intensive project and every effort will be made to deliver on time.

With regard to the rear shocks we have costed them into the kit as it is essential to maintain the correct overall length and rod movement. Please bear in mind that the kit has been priced in a competitive manner to give a discounted price. If the parts of the kit were sold as separate items the total cost would be greater. If any part of the kit is excluded by the customer the individual parts pricing will take place and the cost will rise as previously mentioned.
NOTE The Frame kit is fully assembled and tested in our workshop before delivery. You will only have to fit Engine ,wheels and forks, and your are ready to go.
A deposit of fifty percent with written order will be required to commence production of kit. Cost of carriage and freight to be agreed and finalised with customer.
Find out more here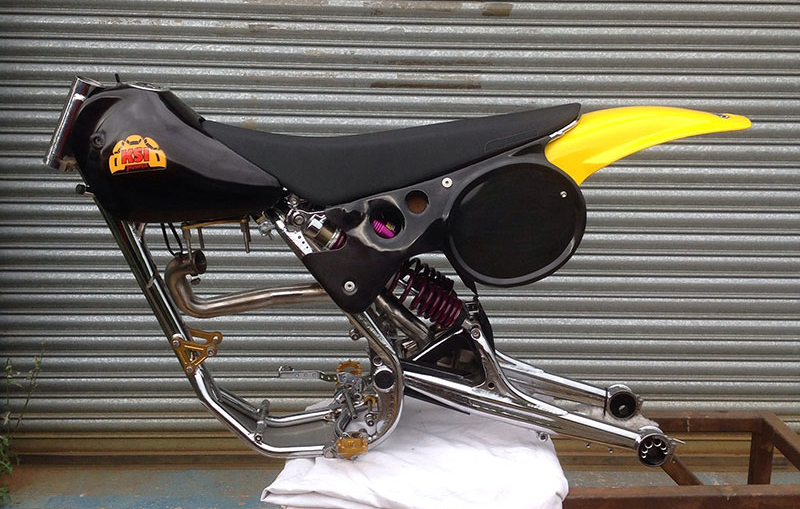 Make an enquiry
Use the form below to select the options you are interested in. We will then contact you with a quote for your bespoke frame.